RESPIRATOR INTUBATION SHIELD
Mar 31, 2020 by Trident Engineered Solutions
Supporting the Madison Medical Community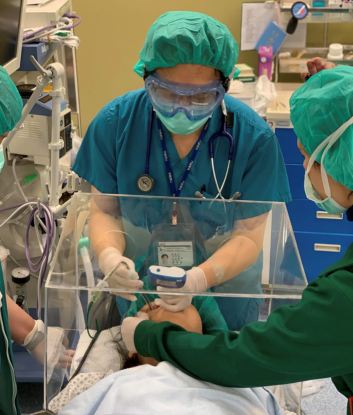 A request came in from a team of doctors & nurses to provide a box that could be used during the intubation process - specifically while treating patients infected with COVID-19. The box, ideally made out of a clear, lightweight material would also have hand holes for the doctors and nurses to be able to use their hands over the patient's head while helping to prevent bodily fluids from being exchanged. They provided a link to the design of box made by a Taiwanese doctor (https://sites.google.com/view/aerosolbox/design)

Not our typical job
Trident Engineered Solutions is not the first business you would think about when you think about working with thin plastics or providing products into the medical field. We are a spin-off of Palmer Johnson Power Systems (PJ), who is a distributor and service provider of heavy-duty off-highway components and repair & refurbisher for off-highway equipment. Trident aims to leverage PJ's access to the product by providing that product as part of complete engineered solutions. We also happen to have a fabrication center where we have a bunch of tooling and knowledge on machining and building (mostly) steel components. The thought was, if we can make things work with steel we can figure out how to get it done with a thin acrylic sheet.
We quickly researched what materials would work best, where we could get them and what it would take to properly build one of these boxes. We also discussed alternative designs and methods for making it happen. The acrylic material was sourced from Menard's and the bonding material from an online from a plastics supplier. We connected with a local partner I3 Product Development who happened to have some extra bonding material for us to test out utilizing ahead of our shipment arriving. We also reached out through our connections at Delve to understand the logistics around providing product to the medical industry in these trying times. Both companies also work in the design and engineering space related to the prototyping and manufacturing of product so their guidance was valuable. Our hope was (and still is) that these boxes can prove as valuable to doctors & nurses as the faceshields are for all medical personnel and first responders.

Fast to prototyping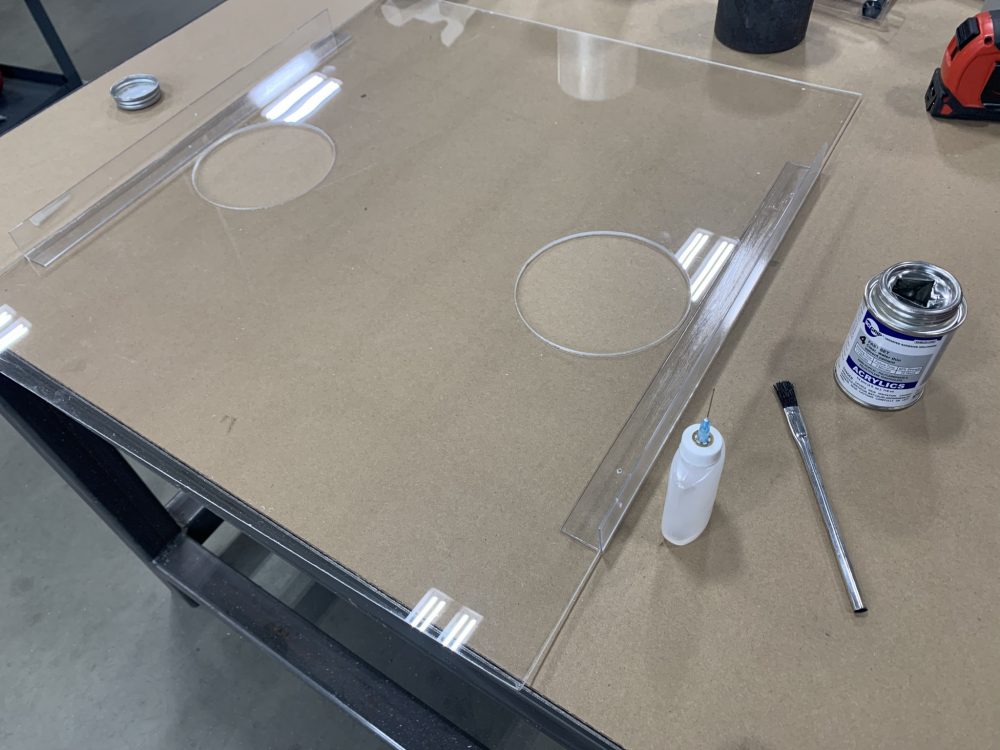 Following a bit more research, we began prototyping. We started testing out different methods of cutting the acrylic to ensure a clean even cut. We kept this part simple and used a skill saw with a carbide-tipped finishing blade. During this process, we also worked to parallel path alternative design ideas and testing out future steps of the assembly process.

Through this process, we also discussed a variety of ideas including how this will scale if the requests grow beyond local hospitals. We'd like to see it take off, whether it's us building them or partnering with others. The way we did it isn't much beyond a glorified crafting project. With machinery made to work with plastics and the work performed by those with expertise working with plastics, our guess is that the design could be improved, the manufacturing process simplified and the cost reduced.
Submit a request
We really have two goals as it relates to this project:

Provide a product that helps keep our doctors, nurses & patients safe.
Keep paychecks in the hands of our greatest asset, our people, so that when this is all over we can pivot back into what we know and do best.
Our boxes are made out of an acrylic material which is 10 times stronger and just as clear as glass. By bending the material instead of using 4 separate pieces we removed additional corner obstructions and reduced the likelihood of breakage at the seams. We applied a small bead of silicone to ensure the boxes are well-sealed and to add some additional integrity.

We also need to at a minimum, break even. Our cost structure and tools are based on working in a different industry. If we get some traction on building a whole bunch of these boxes, we will be able to greatly reduce our costs by tooling up properly, but for now, the price per box is $350. They ship best in sets of two and the material gets used in sets of two and sets of 8, so if you buy two, we will sell them for $600.

1 Unit - $350
2 Units - $600
8 Units - $1,800
16 Units - $3,200
10% of any profits made, at the end of this mess, will be donated to the Dane County Boys & Girls Club.
These boxes will be shipped out of Sun Prairie, WI and can be just about anywhere in the country via UPS or FedEx in 5 days or sooner.
Expected ship dates will be provided once the order is received. We have enough material to build 80 boxes and should be able to ship within 2 days of an order but do expect a backlog.
If you are interested in purchasing boxes, enter your name on the linked document and we will contact you to get the information necessary to ship.

If you are interested in purchasing boxes, enter your name on the linked document. The current price per box is $350 but we hope to bring this down significantly through partnerships and improved processes. This greatly depends on the demand. If you want to support your local community directly, by all means, go for it. You know everything we know. We are in this together so let us know if you need any help or have any other thoughts.
Want to learn build one for your community? Learn more here