TWIN DISC'S HP800 PUT TO THE TEST WITH SCARAB
Mar 06, 2020 by Trident Engineered Solutions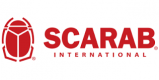 Scarab was struggling to find a clutch that could keep up with their demands. Their compost turners are manufactured in the United States, but they are shipped all over the world. Scarab needed a clutch that could offer uncompromising reliability, especially in locations that see some of the most extreme weather conditions, such as Russia.

Twin Disc Solution
Twin Disc was able to step up to the plate and demonstrate that its HP800 was the best clutch for the job. Twin Disc's new line of HP clutches is built to perform in the most rugged and harsh conditions. The modular design of the HP800 means it is a solution for all 11 machine models that Scarab offers. The HP800 has been a key component for Scarab's line of compost turners.
We were onsite at Scarab's manufacturing facility for startup, making sure everything was installed and operating correctly and answering any questions the customer had. It's important for us to show our customers that we are there to fully support the product line.
"These clutches are fabulous," says Kovette Bradley from Scarab. "They run great with no warranty or other issues. My Assembly Technician really likes this clutch." Scarab currently has four HP800 units installed, with the first being in operation since September 2018.
Twin Disc HP Design
The HPTOs were designed with the end-user in mind. The units come standard with integral mechanical brake release, charge/lube pump, and an optional integrated reservoir. It has an advanced control system that provides smooth engagements and fail-safe settings, both inline and side-load options, and multiple speed increasing ratios on the pump towers. The pump towers are modular, meaning that the SAE pump pads can be easily changed out, helping to reduce inventory costs and keep up with short manufacturing windows.
Twin Disc currently has three different HP models – the HP500, HP800, and HP1200, which support applications in the range of 300-1200HP. They also have two other lines of remote actuated clutches, the RO and RC models. These are remote actuated dry clutches for applications which have lower inertia loads. They are perfect solutions for customers that are using mechanical actuated PTOs but would like to have remote actuation capabilities.
Applications range from chippers, grinders, crushers, mulchers, dredging, pumping, compressors, and many more. When looking for your next remote actuated clutch, look no further. Trident has your solution.
Confidence You Can Trust
These Twin Disc clutches build on a century of manufacturing excellence. You can feel confident that Twin Disc and Trident will give you reliability and performance that can be matched by no other.